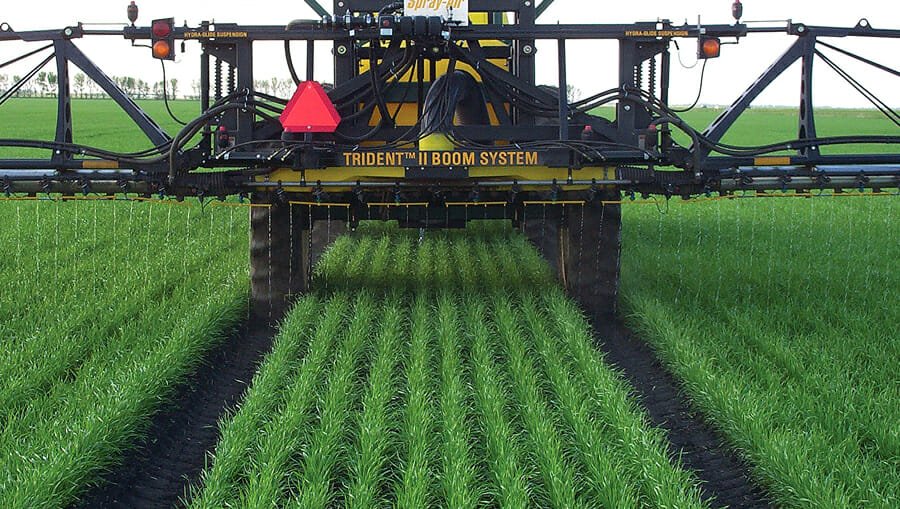 AirTram Tramlines lay out a network of tracks in your field for reduced yield loss and more accurate application of chemicals and fertilizers.
By adapting your sprayer with Nitro-Bars from Amity Technology, you have the control of applying nitrogen at the optimum time for increased yields.
When used with the AirTram Tramline System, nitrogen can be applied with unparalleled accuracy. Quickly change nitrogen application rates using the color-coded orifice adapters.

Benefits of AirTram Tramlines
Less yield and seed population loss from driving over crops
Sprayer runs on compacted soil from tractor and drill, resulting in controlled traffic
Precision accuracy eliminates skips and overlaps
Ground is firmer with AirTram Tramlines, so application of nitrogen can happen during rainfall or immediately after
Wider window of opportunity for application
Less spread of disease and infection
Higher yields through even and accurate application
Environmentally friendly because there is less excess spraying
"Tramlines give us the option for early season top dressing and late season fungicide with minimal crop damage because we are not driving over our crops. We are seeing a 2-5% increase in yield because of our tramlines."
-Tim Oborny, Bison, Kansas
"We save over a bushel an acres by not driving over our crop which pays for our tramlines in about 500 acres."
-Fred Lukens, Aneta, North Dakota
FARMQA is a sister-company to Amity Technology that utilizes a cloud-based platform, FARMQA CONTROLLER, to offer data management from precision agriculture solutions. Some Amity Technology products such as the Compaction Testing System, AquaSpy, and SoilScan rely on this platform to utilize their data.