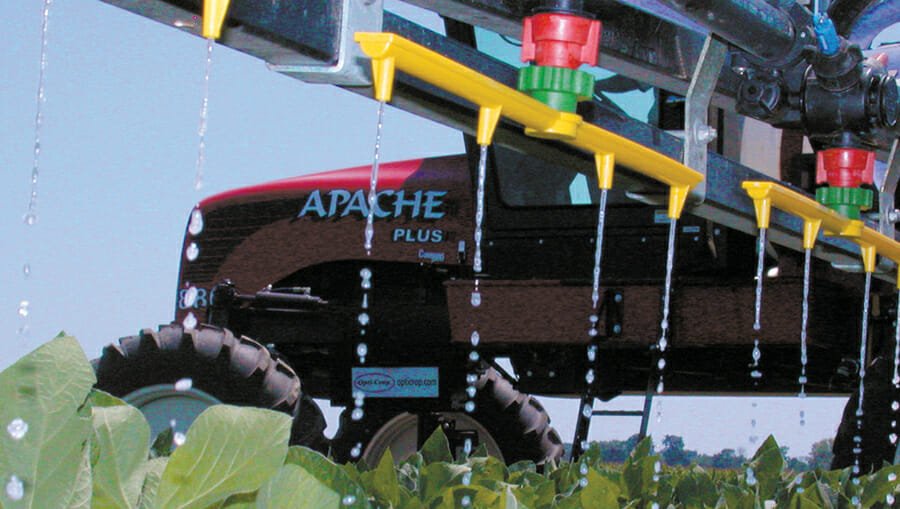 Convert your sprayer into a nitrogen applicator with Nitro-Bars
By adapting your sprayer with Nitro-Bars, you have the control of applying nitrogen at the optimum time for increased yields.
Highly Accurate
The simple, effective design of the Nitro-Bar feeds each of the four ports independently ensuring equal flow and a high standard of application accuracy.
Unaffected by Boom Height or Movement
Nitro-Bars produce a stream of liquid from each port, with no overlapping pattern. This means that application accuracy is extremely high and remains unaffected by boom height or movement. Applications of nitrogen can therefore be carried throughout the growing season.
Reduces the Risk of Leaf Burn
Fertilizer contact with the crop is minimized by the configuration of the Nitro-Bar and by the large droplets produced at the leaf surface. This enables the fertilizer to roll off the foliage quickly, virtually eliminating the risk of leaf burn.
Easy and Quick to assemble
Nitro-Bars fit the standard 20 inch (51 cm) nozzle spacing on sprayers. Using the universal teejet or the Hardi adapters. The Nitro-Bars can be fitted to your sprayer in minutes.
Adaptable for all Application rates
Color coded quick fit orifice adapters enable the flow rate to be easily adjusted to cover the full range of nitrogen applications. There are five different orifice/adapters available to encompass flow rates from 5 to 80 Gallons (20 to 300 Liters) per acre.
For information on what adapter is best for your sprayer see our Nitro-bar Rate Chart
Application Method Comparison
Kansas State University in 2008 researched the most effective method for applying liquid fertilizer to maximize wheat yield and protein. They found a 9 bushel/acre yield increase using stream bars versus the same product being applied with flat fan nozzles.
The return on investment is clear. In this example if wheat was $4.50 per bushel, the grower would have had a $40.50 per acre difference in profit with the same input cost by using Nitro-Bars.