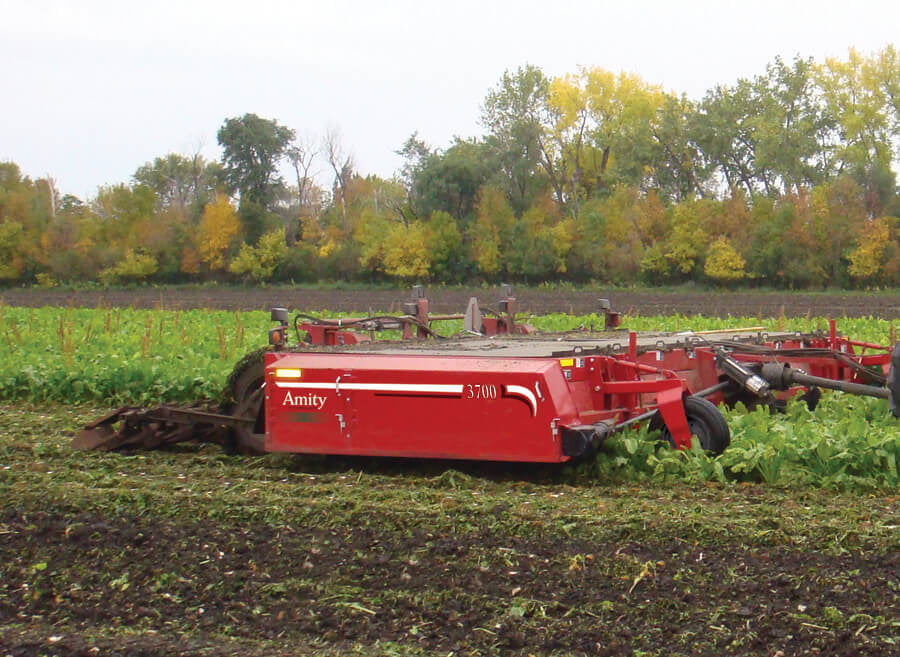 Amity Technology sugar beet defoliators lead the way with their simple, efficient design and innovations that are proven to clean the green from the sugar beet and add it to your bottom line.
Active Height Control (AHC) on Amity defoliators is a major advancement in taming the ever-changing field dynamics you and your team run in to every day during harvest. Finding experienced labor during sugar beet harvest is challenging. With AHC, much of the need for an experienced operator is alleviated by sensors on the scalper bars.
During operation there are a number of changing dynamics for ground level and sugar beet height – uneven beets, sprayer tracks, and mud building up on the tires. Amity's AHC system is constantly monitoring the beet height in comparison to the ground level and making adjustments on the height of the defoliator, up and down, as well as side to side. AHC gives you full defoliation with less damage to your sugar beet crop.
Three-drum Amity defoliators are available with a variety of flail configurations to match your operation.
Optional hydraulic doors are available on 00 Series.
Another Amity Technology exclusive is the all gearbox drive on all defoliator models. Engineered to the power required, these boxes efficiently transfer low-maintenance power. No belts here!
An optional PTO hanger keeps PTO shaft off the ground and clean.
The optional row finder mounts either on the frame or the scalper bar and will please the harvester operator by keeping the removed foliage between the rows.
Optional stabilizer wheels for narrow stance rear strut assembly.
Amity defoliators are available with a number of rear strut options, like steerable or non-steerable, cylinders for ease of height adjustment, and offset to defend against pivot tracks.
7.6 x 15 with 22-inch spacing
11.2 x 24 with 22-inch spacing
11.2 x 24 with 30-inch spacing
11.2 x 24 with 44-inch spacing
Amity Technology offers many flail options, including L-knife, cup knife, tapered rubber, and Amity's exclusive split flail and patented studded flail.
00 Series Sugar Beet Defoliator Specifications
Defoliators

3700

3500

3300

Number of Rows
8 to 12
6 to 8
6
Row Spacing
20-30″
(51-76 cm)
20-30″
(51-76 cm)
20-30″
(51-76 cm)
Total Weight
13,600 lbs
(6.2 MT)
12,000 lbs
(5.4 MT)
10,000 lbs
(4.5 MT)
Hitch Weight
5,000 lbs
(2.3 MT)
4,4000 lbs
(2 MT)
3,800 lbs
(1.7 MT)
Length w/o scalpers
19′ 6″
(5.9 m)
19′ 6″
(5.9 m)
19′ 6″
(5.9 m)
Width
23′ 11″
(7.3 m)
16′ 0″
(4.9 m)
13′ 4″
(4.1 m)
Height
7′ 0″
(2.1 m)
7′ 0″
(2.1 m)
7′ 0″
(2.1 m)
Recommended
Working Speed
2-4 mph
(3.2-6.4 kph)
2-4 mph
(3.2-6.4 kph)
2-4 mph
(3.2-6.4 kph)
Maximum Road
Travel Speed
25 mph
(40.2 kph)
25 mph
(40.2 kph)
25 mph
(40.2 kph)
Tractor Requirements (minimum):
Recommended Power (PTO)
160 hp
(119.3 kW)
130 hp
(96.9 kW)
100 hp
(74.6 kW)
PTO Speed
1,000 rpm
1,000 rpm
1,000 rpm
Drawbar
Vertical Load
5,000 lbs
(2.3 MT)
5,000 lbs
(2.3 MT)
4,000 lbs
(1.8 MT)
Hydraulic Capacity
30 gpm
(113.6 lpm)
30 gpm
(113.6 lpm)
30 gpm
(113.6 lpm)
Hydraulic Pressure
2,700 psi
(18615.8 kPa)
2,700 psi
(18615.8 kPa)
2,700 psi
(18615.8 kPa)