Amity 2300 Scrub & Wheel Harvesters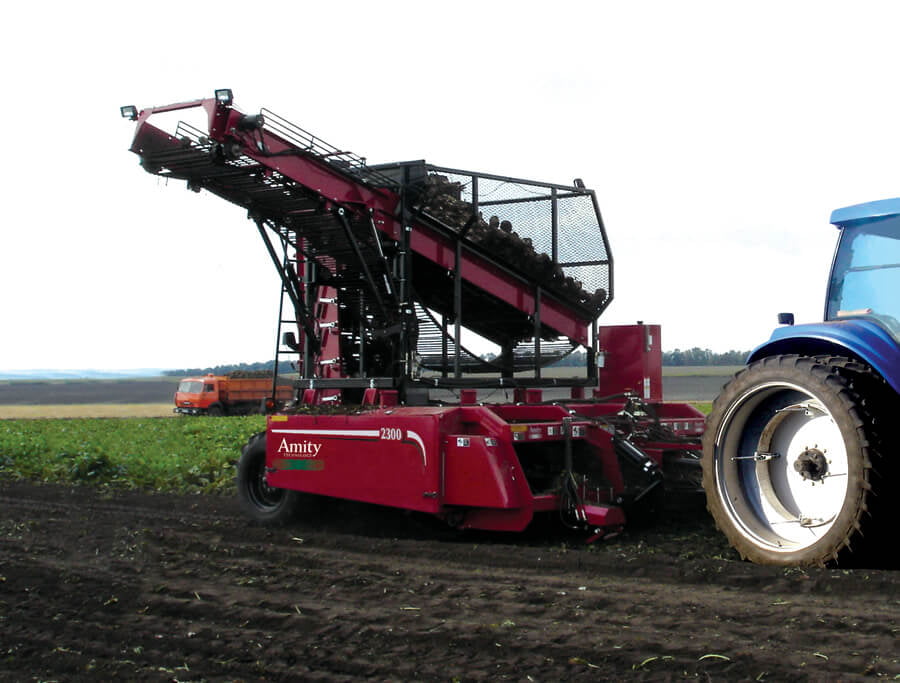 The 2300 sugar beet harvester from Amity Technology comes in a scrub tower or wheel design to efficiently harvest your sugar beets. The 2300 can be configured to six or eight rows. The lifting strut is the cornerstone of all Amity harvesters. Engineered to lift whole beets, Amity lifting struts are adjustable to minimize unwanted mud or utilize lighter soils to ensure the root enters the harvester. With efficiency in mind, you can adjust the rest of the harvester to clean as required. Scrub tower models are an excellent choice for heavier soils that stick.
Amity wheel harvesters are most effective in areas with lighter soils. With the simple design that allows incredible visibility inside the machine, the  Amity 2300 wheel harvester lifts sugar beets with fewer wear parts. Choose 4 or 6-row models to maximize production in your operation.
Active Depth Control (ADC) on Amity harvesters is a major advancement in efficiency and profitability for your operation. As harvester widths increase, the need for leveling the harvester has become a key component in reducing tare and maximizing root yield.
During normal operation, harvester weight dynamics are constantly changing. As the tank and boom fill and empty and as field conditions go from wet to dry, ADC continuously monitors the digging depth and make adjustments with the hitch and rear cylinders across the machine.
From the monitor in the tractor, the operator sets digging parameters on the circuit board. the sensors, or wands, advise the circuit board of the digging depth. The circuit board then instructs the valve block to make adjustments to the hitch and axle cylinders.
*ADC cannot be used with steerable struts
** Restrictions may apply. Consult with your dealer.
Carrying Strut Options
Amity harvesters are available with three different rear-carrying struts, including:
11.2 x 24
23.5/55 x 26
11.2 x 24 steering*
*cannot be used with ADC
Shields with Gas Shocks
Shields with gas shocks provide easy access to working components.
Apron Chain
Amity harvesters utilize an apron chain between the lifter wheels and the grabrolls, transferring the crop through the harvester and removing a majority of the dirt.
Row Finder
The Amity row finder is a simple, effective tool to keep your harvester on the row. The row finder also has a backup feature that allows you to backup without lifting the machine or damaging the row finder.
Grabrolls
Grabrolls on Amity Technology harvesters are designed to remove any remaining dirt or trash from the sugar beets before they are elevated into the tank. Grabrolls can easily be adjusted to be more or less aggressive, depending on field conditions.
Paddles
Amity paddles effectively move the sugar beets from the lifter wheels into the harvester.
Pinch Point Adjustments
Easy pinch point adjustments on Amity harvesters help you pull more taproot in dry conditions and less mud in wet conditions.
2300 SUGAR BEET HARVESTER SPECIFICATIONS
2300 Harvester

2300 Wheel

2500 Scrub

Number of Rows
4 to 6
4 to 6
Row Spacing
20-30"
(45-76.2 cm)
20-30"
(45-76.2 cm)
Total Weight
19,750 lbs
(8.9 MT)
19,000 lbs
(8.6 MT)
Drawbar
Vertical Load
7,500 lbs
(3.4 MT)
6,000 lbs
(2.7 MT)
Length
22' 6"
(6.9 m)
20' 6"
(6.2 m)
Transport Width
(with boom down)
15' 10"
(4.8 m)
15' 10"
(4.8 m)
Operating Width
(with boom up)
20' 6″
(6.2 m)
20' 6″
(6.2 m)
Height
13' 10″
(4.2 m)
13' 10″
(4.2 m)
Tank Capacity
3 tons
(2.7 MT)
 3 tons
(2.7 MT)
Tractor Requirements (minimum):
Power (PTO)
170 hp
(126.8 kW)
170 hp
(126.8 kW)
PTO Speed
1,000 rpm
1,000 rpm
Hydraulic
Capacity
30 gpm
(113.6 lpm)
30 gpm
(113.6 lpm)
Pressure
2,700 psi
(18615.8 kPa)
2,700 psi
(18615.8 kPa)