Amity offers some great reasons to consider upgrading your sugar beet equipment in 2021. Check out the new features on our defoliators and 2720 harvester below.
Active Height Control on Defoliators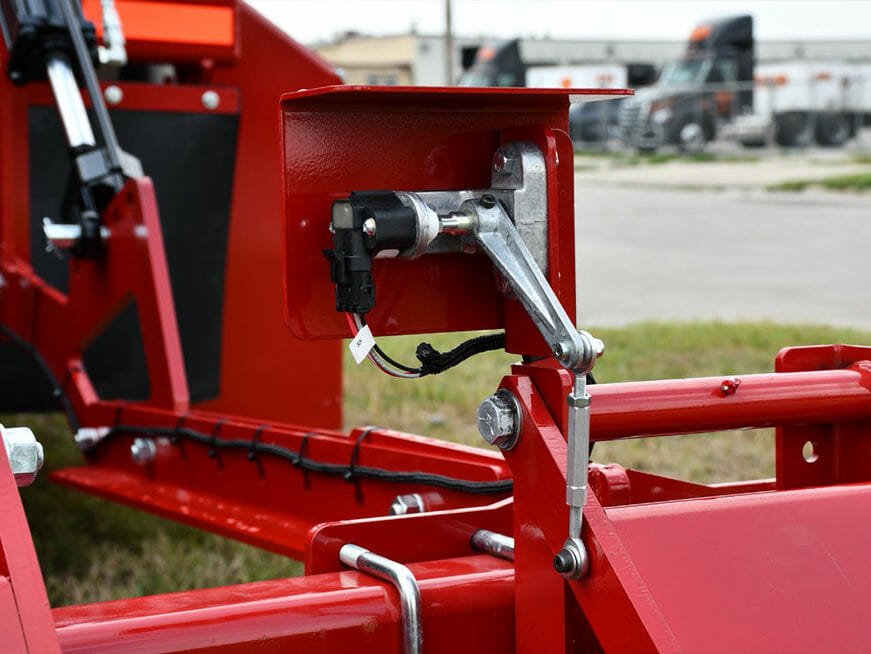 Easy to Operate
Active Height Control (AHC) on Amity defoliators is a major advancement in taming the ever-changing field dynamics operators run in to every day during harvest. Whether you're running a high-speed 50 series defoliator or the standard 00 series, finding an experienced operator is challenging. With AHC, much of the need for that experience is alleviated by sensors at the rear of the machine.
00 Series Sugar Beet Defoliators
50 Series Sugar Beet Defoliators
full defoliation with less damage
During operation, there are many changing dynamics between ground level and sugar beet height – uneven beets, sprayer tracks, and mud building up on the tires. Amity's AHC system is constantly monitoring the beet height in comparison to the ground level and adjusts the height of the defoliator, up and down, as well as side to side. AHC gives you full defoliation with less damage to your sugar beet crop.
00 Series Sugar Beet Defoliators
50 Series Sugar Beet Defoliators
AHC screen
The AHC screen in the cab of the tractor makes it easy to see what your defoliator is doing. You're able to start and stop operation and adjust hitch height with the press of a button or use of a joystick. In manual mode, you can also easily adjust heights from the cab with either input. Diagnostic checks are also easily accessible via the AHC screen.
00 Series Sugar Beet Defoliators
50 Series Sugar Beet Defoliators
The Amity 2720 Harvester offers 31% more capacity and the ability to get through tough harvest conditions. With a larger volume scrub, high profile scrub chain, Dynamic Chain Management, new Active Depth Control ISOBUS controller, new door design with lighted access, and the option for tracks or larger tires, the 2720 puts you in control even when conditions are less than ideal.
Higher Volume Scrub
A new, higher volume scrub on the 2720 has a volume of 59.8 ft³, compared to 45.5 ft³ on the 2700 scrub – a 31% increase in volume! This large increase will allow you to harvest higher tonnage crops faster. Field tests have shown capacity capabilities well beyond 45 tons at 5 mph.
Dynamic Chain Management
Dynamic Chain Management (DCM) maintains proper scrub chain tension during harvest. This advancement in harvester design adapts the scrub chain to sugar beet volume for easier sugar beet flow through the harvester. DCM can allow for higher scrub capacity and field speed. It also reduces scrub chain flexing and extends scrub chain life.
High-Profile Scrub chain option
The High-Profile Scrub chain option on the 2720 harvesters utilizes larger lugs on the scrub chain belt and a new sprocket that drives it on the belt instead of the rod, therefore extending the life of the scrub chain.
ADC ON ISOBUS
Active Depth Control has now become ISOBUS compatible! The software is installed on the unit and will allow ADC to be controlled from any ISOBUS terminal, allowing for fewer screens in the tractor. The user interface has also been dramatically improved to allow for easier, more intuitive operation of the ADC system.
New Door Design
The new 2720 harvester features a new door design to access the working components of the harvester. Hinged at the top of the door, it keeps walking areas obstacle free. Additionally, lights inside the access door provide illumination when working in dark conditions.
Tires or Tracks
When conditions are challenging, every advantage is important. The Amity 2720 Harvester is available with standard 710/70R38 tires, 900/60R32 tires or 30×67″ tracks. Our research shows that there is a significant reduction in ground pressure when using the 900 tires or the track system. The greater flotation also helps recover acres when the ground is muddy.